What Does Opportunity Blindness Cost Your Company?
By Marty Jacknis
Many savvy leaders, executives and their teams suffer from Opportunity BlindnessTM -a condition that inhibits individuals from seizing the massive untapped and un-leveraged opportunities that surround them most of the time. The good news is there are quick solutions to enhance your ability to see and leverage your untapped opportunities. By challenging. See more

High Voltage Contacts
Don't Just Make a Sale – Make a Client By I. Martin Jacknis
JIM MATTESON OF DATA GENERAL CORP. has always known that clients like to party. Like everyone in his industry, Matteson has used corporate events of various kinds to help lure prospects. But he says, "Events are tim-consuming to develop and expensive to stage. In the past, they rarely produced the kind of sales I found even remotely acceptable."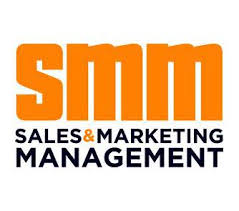 Is Your Presentation a "10"? By Marty Jacknis
Most sales managers recognize the importance of making a great first impression. They understand that developing and delivering a consistant message that shines the brightest light on the company's products, services and personnel is essential. Without it, the company would be hard pressed to distinguish itself from the competition. Yet if you ask the typical sales manager if he has a yardstick or benchmark that identifies what a perfect "10 out of 10" presentationi looks like, chances are the answer is no.  See more…

Multiple Choice — By Marty Jacknis
Why your salespeople should have not one, not two, but three objectives every time they make a call—By I. Martin Jacknis
Most of us assume that failure is intrinsic to the sales process, and not without reason: it's estimated that only 4% of all sales calls end in a commitment to buy. But a lost sale doesn't have to be a wasted opportunity for your company. Have you ever noticed how the most successful salespeople—or business people, in general, for that matter—seem to have a natural talent for getting the most out of every situation? It's not that    See more…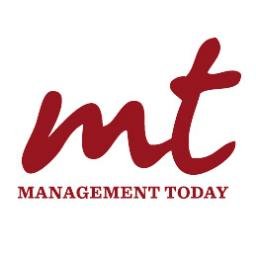 Opportunity ZONE — By I. Martin Jacknis
Getting our of your comfort zone is essential to continued and sustainable success. It's a tough economic market. So, why are countless individuals and businesses today missing opportunities that could propel them ahead? Failure to recognize these openings is partly to blame, but even more likely is the hesitation that comes from being stuck in a comfort zone.    See more…
Overcome 'Opportunity Blindness'  — By I. Martin Jacknis
Three keys to personal and professional success. Success, For some people it just seems to come naturally. Intuitively, these individuals plan better and communicate more effectively. Instinctively, they identify opportunities that others miss, striking when the iron is the hottest and reaching their goals in record time. But chances are these impressive achievements have little to do with inborn abilities. What truly sets these top performers apart is the ability to seek, see, seize and leverage vast number of opportunities surrounding   See more…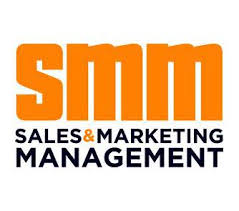 Say 'No' to 'No' — By I. Martin Jacknis
In life, subtle conscious and unconscious decisions often have a profound impact. In business, one such decision is accepting "no" too quickly when in reality it's the wrong decision for both parties. "No" can have multiple meanings from "No, not today" or "No, I am not sure" to "No, I am not the decision maker."
Often, this two-letter word masks a stated, implied or yet-uncovered objection that, given enough time, could be identified and resolved and lead to a successful sale or outcome. Considering the amount of time   See more…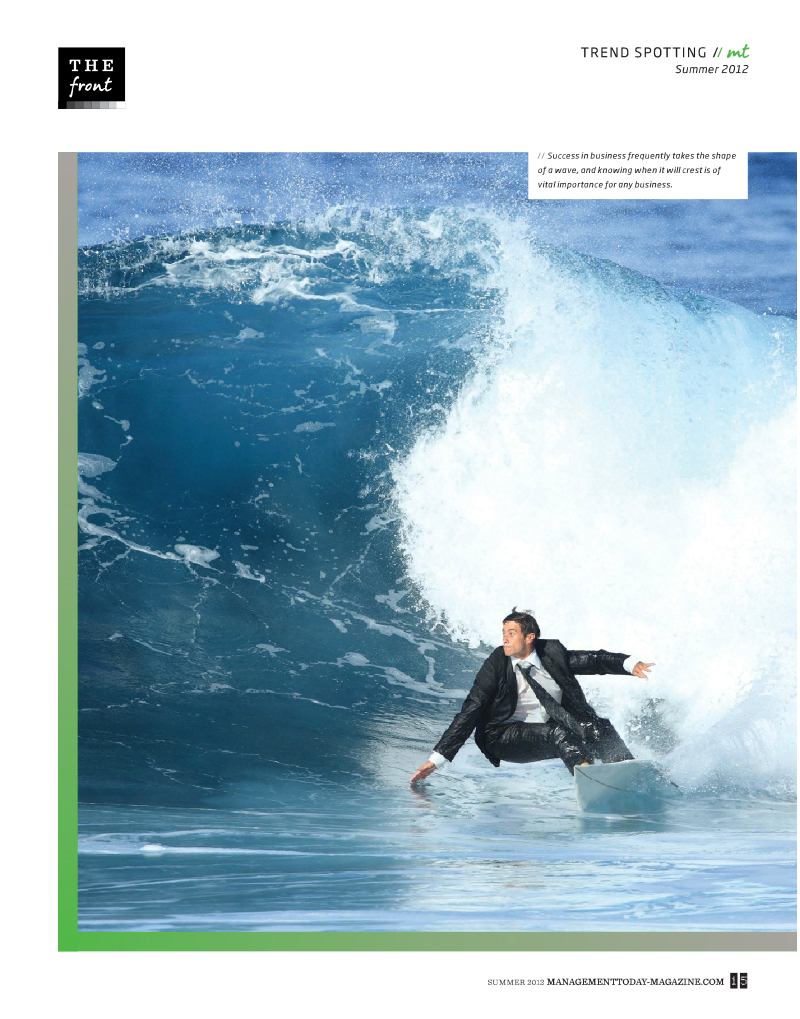 The 'Wave' Phenonemon — By Marty Jacknis
Knowing when the wave of growth will crest is as important as riding it to success. Business growth initiatives tend to follow a fairly predictable pattern. Vision expressed in passionate terms to inspire engagement comes first, followed by the formation of a team to execute the dream and make it a rality. The next step is the achievement of early goals: increases in sales and revenue showing that the plan is on the right path. However, for entirely too many managers, the next step is presumed to be the finish line:   See more…

The Art of Hiring '10s' — By I. Martin Jacknis
Why your new recruits may not be as sharp as the people you used to hire. Have you noticed that the high level of enthusiasm and talent that characterized your organization when you started out is no longer the norm? If your answer is yes, you may find it puzzling. After all, you recruited first-rate talent, and you assume that your people continue to hire only the best.
Chances are your company has fallen victim to what I call the "law of diminishing expertise." It's an   See more…

Where to Begin — By I. Martin Jacknis
In selling to big corporations, knowing where to make the first presentation can make all the difference. Most salespeople I know go into large corporations at the wrong level. They spend siz months selling by the book, and just when they expect to close—boom. Someone they've never heard of before calls the deal off, and they have nothing to show for a lot of hard work except feelings of rejection and a sense of time wasted. It's no secret that the first move on a sale is critical. The question is, where to begin?   See more…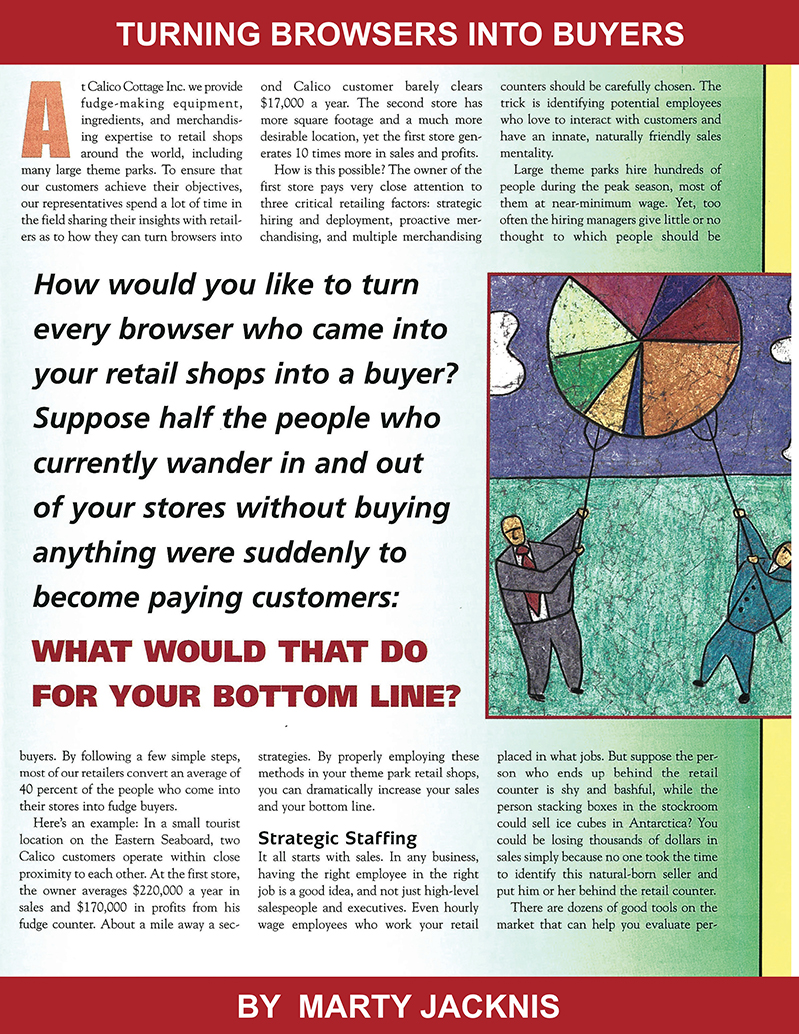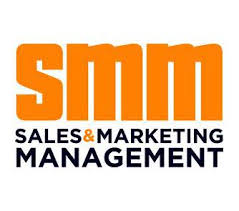 Turning Browsers Into Buyers — By Marty Jacknis
At Calico Cottage Inc. we provide fudge-making equipment, ingredients, and merchandising expertise to retail shops around the world, including many large theme parks. To ensure that our customers achieve their objectives, our representatives spend a lot of time in the field sharing their insights with retailers as to how they can turn browsers into buyers. By following a few simple steps, most of our retailers convert an    See more…

Drawing Them In — By Marty Jacknis
Seductive marketing is the art of enticing customers to come to you. Sales success is largely determined by a company's ability to consistently find, contact and close a sufficient number of potential customers in a timely manner at the lowest cost possible. In an ideal world, that would mean having a continuous stream of qualified decision-makers who fit the company profile, are ready to listen to the company's best presentation and make a positive buying decision. But this is not a perfect world. So what companies tend to do is rely on the traditional "fish" and "hunt"     See more…
For a no obligation, complimentary consultation, please contact: Marty (516) 816-4464, Email:

[email protected]